Using a Concrete Dust Vacuum to Reduce Dust Related Health Risks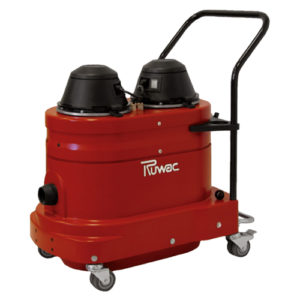 The dust produced by cutting concrete contains great amounts of respirable crystalline silica. If you regularly inhale these elements, it will expose you to respiratory problems, affecting your lung tissues. If this is your regular work or you own a construction company with the workers doing this type of job, you need to take the necessary precautions. You need the help of a concrete dust vacuum.
There is a Solution
Fortunately, you can prevent such health risk using our state-of-the-art concrete dust vacuum.
At Latta Equipment, we offer concrete dust vacuum machines designed to help workers avoid respiratory problems derived from cutting concrete. They come in different sizes and models, including:
Baby Red
This vacuum may be compact but it can be an understatement when it comes to power. This vacuum is built to be functional, durable, and for filtration. It comes with a drop down 9-gallon dustpan and has grounded fiberglass construction. It has a very good filtration efficiency that surpasses industry standards.
Quiet Red
Quiet Red is an industry first that was manufactured to be both smooth and reliable. This can be suitable for areas that require less noise. It has a lengthy hose for maximum housekeeping and has a high-efficiency rating. The vacuum can carry gallons of water for maximum power.
Red Raider
Like the Quiet Red, the Red Raider is effectively packed with three motors for a powerful vacuum and has a 9-gallon dustpan. It comes in two voltage type models, 110 and 220v. The red raider is a highly efficient vacuum that surpasses industry standards.
Red Raider XT
The Red Raider XT is a combined power of the WS 2320 and the HEC-XT. It has both power and collection capacity that you won't find anywhere else. The vacuum has a 30-gallon collection drum for greater efficiency. It also matches the high performance of WS2320 and is a great industry first.
Customization is Possible
We can customize a concrete dust vacuum according to your requirements while still retaining the same advanced technology we use in all of our vacuum machines. By using this machine, your workers will be able to enjoy dustless vacuuming; thus, eliminating the usual health risks associated with concrete cutting.