Using Industrial Vacuums to Protect the Health of Your Employees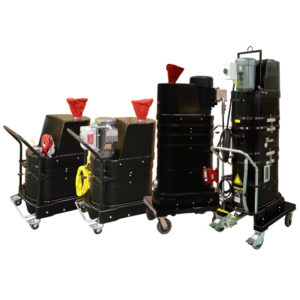 Factory employees, especially those working in the chemical and metal industries are constantly at risk of health problems because of the nature of their work. Dangerous particles are always present in their workplaces, which can inadvertently be inhaled. This is the reason why most factories have safety measures to protect their workers. One such protective measure is by using industrial vacuums over the conventional ones because of their added safety.
We Provide Radical Solutions
One good thing about Latta Equipment is our extensive line of industrial vacuums that can eliminate such health hazards. Some of our most trusted and reliable products are:
The Single Phase Vacuums
This is one of the best performing and durable vacuums along the line. The vacuum comes with a drop-down dustpan and can filter fine dust without damaging the filtration system. The high quality Ruwac filter system blocks imperceptible particles while providing the suction you need.
Combustible Dust Vacuums
This vacuum is excellent for light housekeeping or thorough cleaning and comes with a remarkable cleaning power. They are manufactured to meet ISO 9001 production standards and are built for use in hazardous areas. Units come with an explosion proof motor and high performance turbine for extra power.
Continuous Duty Vacuum Cleaner Systems
This reliable vacuum is fitted with MicroClean filters that are very efficient in cleaning out particles invisible to the naked eyes. It has a modular housing made of carbon permeated cast fiberglass that will not scratch or rust. This can be an excellent vacuum for multiple operators and vacuum assist tooling.
Process Vacuums
This portable vacuum can be utilized just about anywhere, making dust particle and chips removal easy. It runs smoothly so it does not cause any distraction when you are concentrating on your task. It has a solid all-metal container for immediate and orderly waste collection.
Industrial Vacuums Are Readily Available
Health problems associated with an improper waste collection can be eliminated with our industrial vacuums. We offer a wide range of industrial vacuums that come in different models and sizes.

At Latta Equipment, we have been serving a vast market including the aerospace, defense, medical, and engineering industries for more than 21 years. Whatever your vacuuming problems are, we can confidently say that we can help you implement the right solution using the right model of industrial vacuum.